Announcing the 2023 Newtown Festival Performance Programme!


Aotearoa's biggest and best free music festival and street fair makes a triumphant return, presenting a lineup for their 29th Newtown Festival on Sunday 5 March 2023.
It's been too long without a Newtown Festival but we're back baby! Shout out to the programmers who do exquisite work, the wider team for the unglamorous jobs that need to be done, the arts community for simply being, and a big mihi to the many many fantastic artists bringing their creativity and energy to Newtown.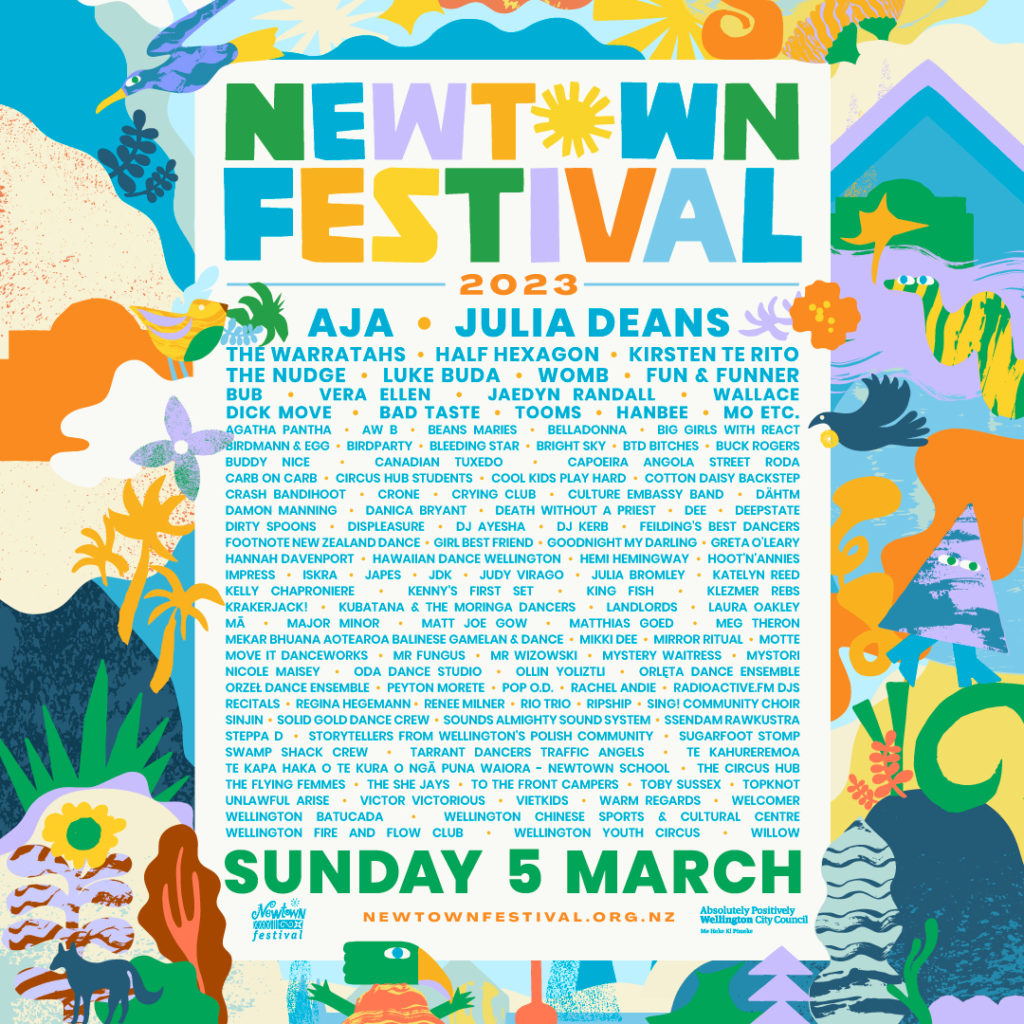 Newtown Festival is happy to present:
agatha pantha, AJA, Aw B, BAD TASTE, Beans Maries, Belladonna, Benthamism and Libby K, Big Girls with REACT, Birdmann & Egg, BIRDPARTY, BLEEDING STAR, Bright Sky, BTD Bitches, BUB, Buck Rogers, canadian tuxedo, Capoeira Angola Street Roda, Carb On Carb, Circus Hub Students, Cool Kids Play Hard, Cotton Daisy Backstep, Crāash Bandihoot, crone, Crying Club, Culture Embassy Band, DÄHTM, Damon Manning, Danica Bryant, Death Without A Priest, DEE, deepState, Dick Move, Dirty Spoons, Displeasure, DJ Ayesha, DJ Kerb, Feilding's Best Dancers, Footnote New Zealand Dance, Fun & Funner, Girl Best Friend, Goodnight My Darling, Greta O'Leary, Half Hexagon, hanbee, Hannah Davenport, Hawaiian Dance Wellington, Hemi Hemingway, Hoot'n'Annies, impress, Iskra, Jaedyn Randall, Japes, JDK, Judy Virago, Julia Bromley, Julia Deans, Katelyn Reed, Kelly Chaproniere, Kenny's First Set, King Fish, Kirsten Te Rito, Klezmer Rebs, Krakerjack, Kubatana & The Moringa Dancers, Landlords, Laura Oakley, Luke Buda, MĀ, Major Minor, Matt Joe Gow, Matthias Goed, Meg Theron, Mekar Bhuana Aotearoa Balinese Gamelan & Dance, Mikki Dee, Mirror Ritual, Mo etc., MOTTE, Move It Danceworks, Mr Fungus, Mr Wizowski, Mystery Waitress, Mystori, Nicole Maisey, ODA Dance Studio, Ollin Yoliztli, Orlęta Dance Ensemble, Orzeł Dance Ensemble, Peyton Morete, POP O.D., Rachel Andie, RadioActive.FM DJs, Recitals, Regina Hegemann, Renee Milner, Rio Trio, Ripship, SING! Community Choir, Sinjin, Solid Gold Dance Crew, Sounds Almighty Sound System, Ssendam Rawkustra, Steppa D, Storytellers from Wellington's Polish Community, Sugarfoot Stomp, Swamp Shack Crew, Tarrant Dancers Traffic Angels, Te Kahureremoa, Te Kapa Haka o Te Kura o Ngā Puna Waiora – Newtown School, The Circus Hub, The Nudge, The She Jays, The Warratahs, To The Front Campers, Toby Sussex, TOOMS, Topknot, Unlawful Arise, Vera Ellen, Victor Victorious, Vietkids, Wallace, Warm Regards, Welcomer, Wellington Batucada, Wellington Chinese Sports & Cultural Centre, Wellington Fire and Flow Club, Wellington Youth Circus, Willow, Womb
More announcements to come in the new year.
Meri Kirihimete, Happy New Year, Happy Holidays from the NF team.