Back to activities

The Circus Hub Stage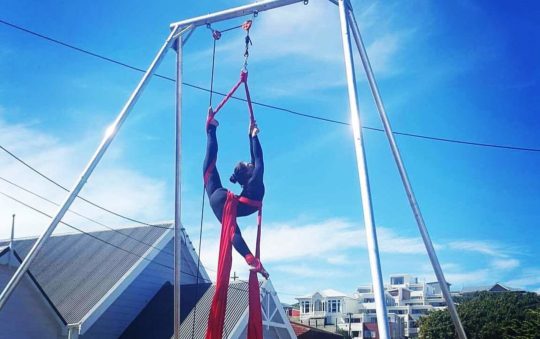 When:

11th Apr 10:00am

Where:

Gordon Pl

The Circus Hub Stage is back again with a full day of exciting circus performances and activities for everyone. Join us to celebrate circus!
Organised by Newtown's very own circus school, the stage will feature students of the Hub and local professional artists.
Come support our performers who will be showcasing their impressive acrobatic skills, including on aerials! We will have activities running all day between shows for the whole family so you can give circus a go yourself, and spin our wheel of fortune for a chance to win free classes.
The Circus Stage on Arney Street is produced by the Wellington Circus Hub. It will host shows each hour as well as interactive workshops for kids. The stage and stall will be open from 10am – 5pm.
The Stall
The stall will be open from 9:30am to 5pm. There will always be an event manager onsite responsible for security of the equipment and for inquiries.
The stall will advertise the shows and workshops as well as activities at the Wellington Circus Hub.
Circus Shows

There will be a 20 minute circus show each hour for a total of 6 shows throughout the day.
The performers are all professional Wellington Circus Artists. The shows will be of a national standard. Using circus aerials, acrobatics, comedy and audience involvement, these shows will be a highlight of the festival. This will be made even more special with the opportunity to try out some skills in the workshops.
Workshops
Every hour, the Circus Stage will host workshops led by the best Circus Hub trainers. These are for children and families to participate in.
Designed to exercise gymnastics, fitness, team building, hand eye coordination, and boost confidence, these workshops will be very popular.
Thanks to New Zealand Community Trust and Colossal.
Stage Programme
10:00 – 10:20 Wellington Youth Circus
10:20 – 10:50 The Circus Hub Games
11:00 – 11:20 Raucous Productions
11:20 – 11:50 The Circus Hub Workshops
12:00 – 12:20 Mr Wizowski
12:20 – 12:50 The Circus Hub Games
1:00 – 1:20 Booth The Clown
2:00 – 2:20 LAURA: MIGHTY CIRCUS GIRL
2:20 – 2:50 The Circus Hub Workshops
3:00 – 3:20 Fool Steam Ahead
3:20 – 3:50 Booth The Clown
4:00 – 4:20 Under Construction
4:30 – 4:45 The Circus Hub Raffle