Back to performers

Culture Embassy Band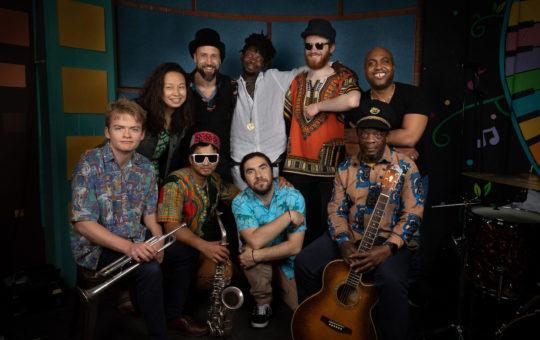 When:

5th Mar 12:45pm

Where:

Normanby St Stage

Ras Judah Culture Embassy Band is a Wellington-based, 10-piece ethnically diverse outfit, hence the name "Culture Embassy". The band's musical style is an infusion Afro jazz and Roots Reggae.
Culture Embassy started in Wellington back in early 2013 as a collaborative music project between Ras Judah and friends. Ras Judah hails from Botswana in Southern Africa. He has been playing music professionally for over two decades, has recorded three solo albums as well as work on several collaborative projects, including work with various musicians in Africa, Europe and here in Aotearoa.
Ras Judah & Culture Embassy released their first album as a group in November 2015 in Wellington. In 2018 the band performed the Newtown Fair before embarking on a tour of the South Island which included a performance at the annual Nelson March fest. Ras Judah and Culture Embassy's last Cuba Dupa performance was in 2019.
The band released a new single "Not in my life" on Friday, 12 February 2021, followed by a South Island tour.

The band membership includes of some of Wellington's seasoned musicians as well as international musicians originating from South America, Africa, UK, Japan and elsewhere. Ras Judah and Culture Embassy released their first collaborative album "Pan Afrikan" in November of 2015 and have since become a regular feature in the Wellington music scene.
The current band line-up includes:
– Benjamin Ato Baidoo (drums/backup vocals)
– Henry Smithers (bass guitar)
– Jiji Aligno (lead guitar)
– Ras Judah (1st rhythm guitar/lead vocals)
– Luke Parker (2nd rhythm guitar/vocals)
– Mohamed Shemi (African hand drums and vocals)
– James Guilford (Trumpet)
– Elizabeth Hocking (Alto Sax)
– Theo Sekeries (Flute/keys)
– Aiko Sato- Trombone
– Rafael Ferrer Noel (congas/vocals)