Back to performers

Vietkids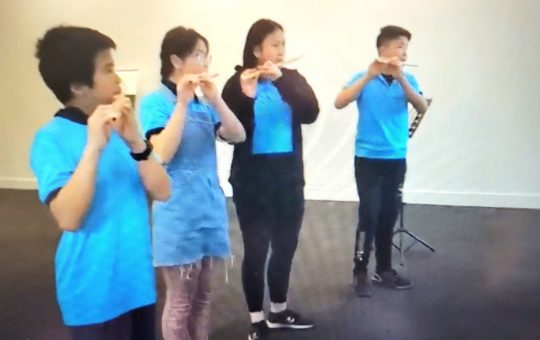 When:

5th Mar 11:10am

Where:

South Stage

VietKidsNZ is a Vietnamese community group focusing on preserving Vietnamese language and culture for children in New Zealand, founded in 2014. VietKidsNZ Arts Clubs with about 20 kids, have been performing Vietnamese folk song dance and Vietnamese bamboo flute at many events and cultural festivals.

The first performance is two folk songs originated from the Northern Delta region of Viet Nam played on Vietnamese traditional bamboo flutes with the combination of traditional dances. One folk song is about the Banyan tree, a symbol of Vietnamese villages, where many traditional cultural festivals are organized by the communities at the beginning of each year. Another folk song is about the joy of the farmers during harvest season on the beautiful paddy fields stretching all over the country.

The second bamboo flute performance is a song written about the beauty of the country and the hospitability of Vietnamese people. The song is like an invitation from millions of Vietnamese people to people all over the world to come and visit our beautiful country.

The third performance is a song written about Vietnamese traditional costume – "ao dai" and the beauty of Vietnamese women wearing these "ao dai", introducing Vietnamese cultural identity and Vietnamese spirit to the world.

The fourth performance by some new flutists of VietKidsNZ Club, the song is about one of the most important Vietnamese Festival – Lunar new year.

The last performance is Feliz Navidad played on Vietnamese traditional bamboo flutes. This is Christmas and new year wishes from VietKidsNZ to all communities in New Zealand, iwi and hapu. We are very thankful to be a part of the communities in New Zealand and would like to contribute towards promoting cultural integration and social inclusion in this country.