Back to performers

Cotton Daisy Backstep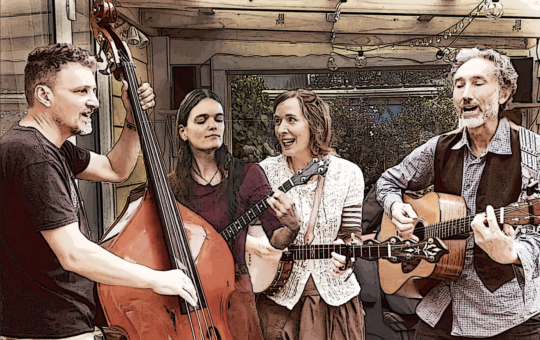 When:

5th Mar 11:45am

Where:

Normanby St Stage

Cotton Daisy Backstep play the old 'hillbilly' music of the Appalachian Mountains, their homestead music evokes that old 78 bacon-frying sound no book-learning can give. They sing the haunting songs of the pioneers, old gospels, shotgun totin' moonshiners and tub-thumping dance tunes with 3 part harmonies and driving rhythms.

Helena's enduring commitment to the Old-time music developed during her 10 years in West Virginia steeped in the local traditions. She learned banjo from her father Luke Faust in New Jersey and then travelled around West Virginia visiting the old timers in the remote places of the region, collecting tunes and songs from their long held memories. She formed the Award winning band 'The Raincrows' and has taught banjo and Appalachian ballad singing at festivals and events across West Virginia and North Carolina.

Helena carried a wealth of tradition with her when she moved back to NZ in 2003. She assembled support acts for a touring fiddler from the US and this group continued as Cotton Daisy Backstep. They have been playing cafes, folk clubs, festivals and square dances around the Wellington area appearing at events such as CupaDupa, Wellington Gardens Magic, and Wellington Folk festival [People's Choice Award 1918].

Band members include: Helena Faust (The Faustians) on banjo/vocals, Philip Muollo on guitar, Bill Vella (Rue Barb) on double bass, and Megan Ward (Devine Pitch) on fiddle.
Together they have revived and carried this tradition in true form far from its home and bring to you this wonderful evocative Oldtime music experience.