Back to performers

Mr Fungus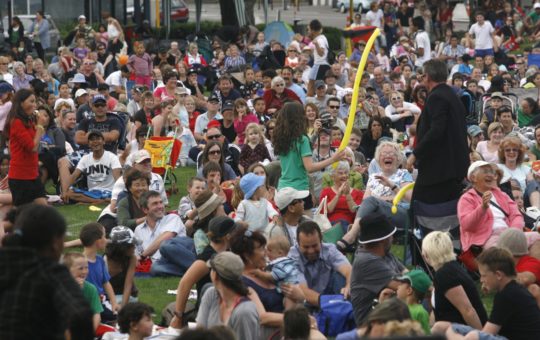 When:

5th Mar 10:00am & 12:45pm

Where:

Buskers Pitch

MR FUNGUS likes to wiggle around to a variety of music and enrol street audiences in absurdity and joy.
World famous in Wellington, MR FUNGUS is the creation of comedian and actor Fergus Aitken, who recently MC'd week 2 of Wellington City Council's Gardens Magic series.
For the past decade and a half(?) Fergus has programmed and hosted the Buskers Pitch for the Newtown Festival.
2023 marks Fergus's 40th year as a performer – stand-up comedian, corporate entertainer and teacher of physical theatre and mime.
His varied performing career started in 1984, with Robert Bennett's Wellington-based Mime International. After touring with Nina Nawalowalo to an arts festival in Moscow and villages in Northern Poland, Fergus spent several years living and training in the UK, developing a highly interactive and physical street performing style with visual comedy and mimicry, at London's Covent Garden, and also at numerous festivals in UK and Europe.
Returning to Wellington to perform MR FUNGUS in the 1990 NZ International Festival of the Arts, Fergus then coordinated NZ's first major international street entertainer's competition Lotto World Buskers '92, as part of the 1992 Festival.
Fergus was a founding member of both the Fringe Arts Trust and the Wellington Circus Trust.
MR FUNGUS has played at many of NZ's largest events, from the World of Wearable Art to Sweetwaters, Golden Shears to Cubdupa…
Also Edinburgh Fringe, Chelsea Arts Ball, Glastonbury Festival and he won an award for comedy at the Rotterdam Straatfestival… Numerous TV commercials, a guest juggler with the NZSO and more than one appearance at the glorious Upper Hutt Carnival.
Recent MR FUNGUS family theatre seasons include Circa Theatre, Wellington and Centrepoint, Palmerston North.

"The wonderful dead-pan humour made me, as an 83-year-old, laugh as much as the numerous children near me…"
Audience member, Circa Theatre 2021
"Engaged, smart and skilled physical humour for all ages… a real gem…"
Theatreview