Back to performers

Ripship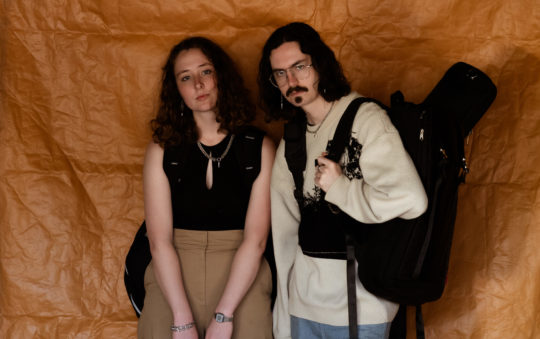 When:

5th Mar 4:50pm

Where:

Wilson St Stage

Ripship are a sci-fi psych-rock duo hailing originally from Tāmaki Makaurau, now Pōneke. The prolific performers shake venues with heavy riffs, off-kilter beats and deep synth loops. Science fiction and technological anxiety influence both the timbre and subject matter of Ripship's songs, with vocoded lyrics touching on AI uprising, interstellar travel and the heat death of the universe.
Callum Lincoln (guitar, synth, vocals) and Eva-Rae McLean (drums, vocals) met at a gig in 2018, but would have crossed paths many times in the Auckland all-ages scene circa 22016. The band's first gig was in 2019, and they concluded the year with their first festival performance at Whammyfest 2019.
The duo's first release in 2020, Greebles, is a six-track EP accompanied by a music video for Lube the Cube. Reviews of the EP praised the variety of genres and the unique timbres achieved with a lo-fi setup.
In December 2022, Ripship released their debut LP, Fearsome Engine, along with a music video for the title track. Fearsome Engine is the result of mercilessly gigging every fresh bit of material, wringing out any uncertainty. As a result, the nine tracks are curated not just by the band, but by their audience too. Textures touched on by Greebles are fully fleshed on Fearsome, with pitch-shifted guitars, polyrhythmic drums and gnarly synth tones in the foreground. Produced by Peter Ruddell (Sulfate, Jazmine Mary), Fearsome Engine makes no compromises.
Ripship's live performances are well-reviewed, with audiences and critics noting the surprisingly massive sound for a two-piece.

"They shook the cavernous room of Whammy Bar with bone-rattling drum beats and the distorted roar of electric guitar, beating their instruments into submission song after song ... Ripship are a band I will absolutely be seeking out for a repeat performance."
Oxford Lamoureaux